Recognizing Early Cognitive Change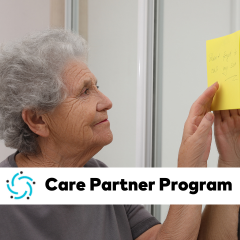 There are many aspects of cognition: thinking, understanding, learning, remembering, problem solving, language, and more.
In this course, you will learn about some of the earliest changes to thinking and memory that are commonly seen in people with Parkinson's, how to assess for and monitor these changes, and ways to cope as your loved one with PD experiences early cognitive changes.
 
 

Syllabus

 

Introduction to Early Cognitive Change

Early Cognitive Change
Video

Executive Function
Video

PD vs. Aging vs. Medication
Video

Ready to Learn More? 
Video

Pause and Reflect: Executive Dysfunction
Personal Prompt

Recognizing Cognitive Change

Executive Dysfunction in PD
Video

Identifying Executive Dysfunction at Home
Video

The Daily Experience with Cognitive Change
Video

Take Home Tip – Multitasking 
Sharable Graphic

Pause and Reflect: Making a Plan 
Personal Prompt

Measuring Cognitive Function

Talking to the Doctor
Video

Assessing Cognitive Decline
Video

Timing of Cognitive Testing
Video

The MoCA Test
Downloadable Resource

Pause and Reflect: Discussions with Your Doctor
Survey

Adapting to Cognitive Change

Time Management and Planning
Video

Take Home Tip – The Value of Reminders 
Sharable Resource 

Improving Quality of Life
Video

Ensuring Safety
Video

Driving and Parkinson's
Fact Sheet and Podcast

Take Home Tip - Safety
Sharable Resource

Care to Talk: Redefining Roles
Video

Finding Support
Video

Final Words of Wisdom 
Video

Pause and Reflect: Independence vs. Safety
Personal Prompt 

Evaluation

 
 
The Recognizing Early Cognitive Change course is brought to you, in part, by the support of Right at Home.
Target Audience
This course will be most helpful for care partners who have either not yet noticed cognitive change in their loved one with Parkinson's or who are beginning to see signs of cognitive change in their loved one.
Learning Objectives
Our hope is that care partners who take this course will be able to:
Describe what thinking and memory changes can look like in the earliest stages.
Recognize the symptoms and challenges to share with their loved one's doctors and other healthcare professionals to help them understand what challenges are most important to address together.
Identify strategies to adapt daily tasks and discussions to support their loved one's changing cognition.